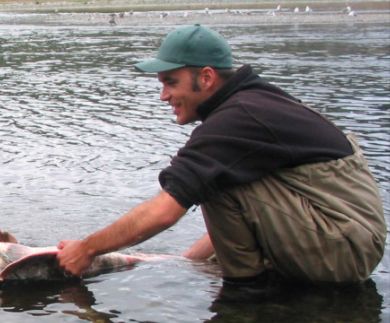 Position/Affiliation: NOAA Southwest Fisheries Science Center
Contact Info:
Address: Fisheries Ecology Division
110 Shaffer Road, Santa Cruz, CA 95060
Phone: 831-420-3921
Degrees:
1994: Duke University- PhD, Biological Oceanography
1989: UC Santa Barbara- BA, Aquatic Biology
Research Interests: Landscape, ecosystem, community and population ecology of aquatic organisms, statistical and numerical modeling, time series analysis, stable isotopes, telemetry, mark-recapture.
Recent Publications & Presentations: CALFED 4th biennial conference Newman, K. B. and S. T. Lindley. 2006. Accounting for demographic and environmental stochasticity, observation error and parameter uncertainty in fish population dynamics models. North American Journal of Fisheries Management 26: 685-701. Lindley, S. T., E. Mora, R. S. Schick, P. B. Adams, J. J. Anderson, S. Greene, C. Hanson, B. P. May, D. McEwan, R. B. MacFarlane, C. Swanson, and J. G. Williams. 2007. Framework for assessing viability of Chinook salmon and steelhead in the Sacramento-San Joaquin basin. San Francisco Estuary and Watershed Science 5(1), Article 4.